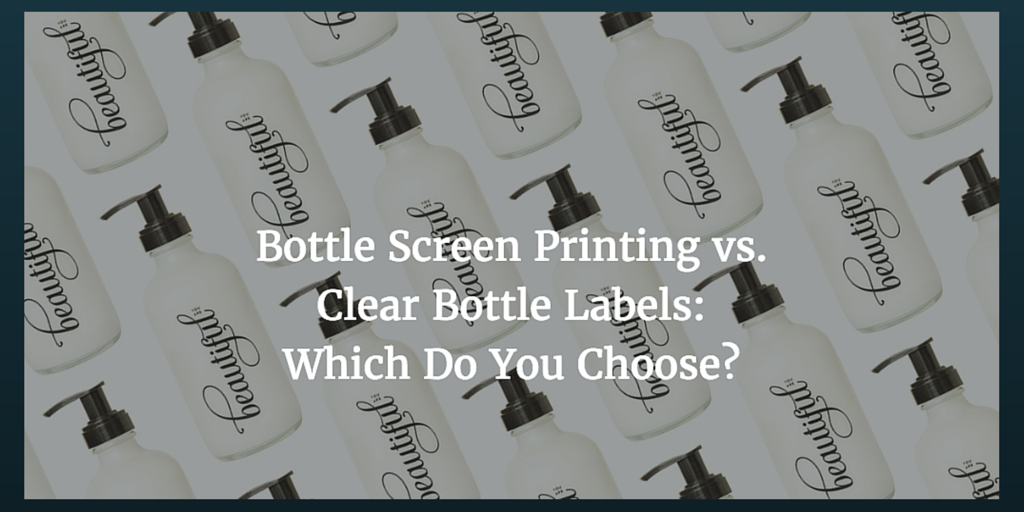 Bottle Screen Printing vs. Clear Bottle Labels: The Pros and Cons of Both
Have you ever wandered down the aisle and been impressed with the packages that appear to have no product labels? They look sleek and professional without sacrificing on branding and interest. They seem to stand out on the shelf simply because their label and product packaging blend so seamlessly.
You want the same for your product! As you investigate, you'll discover there are two ways to achieve this – with silkscreen direct print and clear bottle labels. What's the difference and which process is right for you? To answer that question, you need to know the pros and cons of each printing style.
Pros and Cons: Bottle Screen Printing
Bottle screen printing is done by applying an ink via a screen, directly onto the packaging. There is no label at all.
The process happens when the printer applies a mesh pattern to the label and then pumps ink through the mesh openings to produce the label image. This is also known as silk screening. It can be a cost effective option if colors are limited and volumes are mid to long-run productions.
Bottle screen printing is a popular choice because the end result is tactile, durable, versatile, and attractive. Still, there are some downsides.
Let's take a closer look at why you might decide for or against bottle screen printing.
Pros:
It looks clean. Typically, bottles that are screen printed only have one or two colors. Think about your favorite shampoo bottle, which often is printed silkscreen.
It's durable. Bottle screen printing is durable against scuffing, weather, UV light and water. It also has chemical resistant properties.
You can use opaque colors. Many brands like this, especially when printing white silkscreen on clear containers. It stands out more than standard white inks used on labels because flexo inks are less opaque due to their low viscosity. Silkscreen pops!
You can add special textures. This is known as high build silkscreen and it happens when the labels go through the silkscreening process but then are purposely raised to a level where the characters can be felt or distinguished.
It can be less costly if you're getting a large volume printed. This is because there is a single process to produce the finished goods, so you don't need to coordinate secondary steps.
Cons:
It can be more expensive if you're getting a short run or mid-sized order with multiple skus. It can also be pricey if you're getting more than three colors on your container.
It requires a lot more inventory space. Inventory space is a concern with bottle screen printing. In order for it to be cost-effective, you must typically have a minimum order quantity of at least 2,500 or 5000 bottles/SKU. Because this method is printed directly onto the packaging and most retailers want their manufacturers to hold finished goods for each item, you may need to have a lot of space if you have multiple skus.  The end result, you're required to store a good amount, which can easily take up a lot of room in a warehouse, depending on your container size.
The tooling can be expensive. Silkscreen tooling can average thousands of dollars compared to label tooling, which averages in the hundreds.
Waste is pricier. You'll lose more if a bottle gets thrown away due to a mistake, rather than just a label.
Pros and Cons: Clear Bottle Labels
One popular alternative to silkscreen direct print is a clear bottle label. These clear printed flexo labels are designed to blend with the container finish and stick right on the bottle so they give the same "no label" impression of a bottle screen print.
So when would you choose these labels? Let's look at the benefits and downsides.
Pros:
It can be hard for customers to tell the difference between direct silk screen and clear labels. The "no label" look is simulated with the clear bottle label on a clear container. The label finish can be adjusted to match the bottle to further the "no label" look. While a printer or graphic designer would know the difference, if the correct material and finish are selected, your average consumer would not tend to notice.
There is rarely a tooling fee. Label dies tend to be more readily available in thousands of sizes, eliminating the tooling fee. If a tool is needed, the cost is generally significantly less than silkscreen dies.  
You'll have less waste. If a label is misapplied or has a mistake, it gets thrown away and the bottle gets relabeled. You aren't tossing out your entire product packaging.
You have a broader range of colors to choose from. That's because registration is better, so you can produce the labels in CMYK (photo image) printing. The color sky's the limit!
You can print multiple skus a lot easier. If you have multiple skus, you'll save money getting clear labels because the changeover costs are significantly less and if printed digitally, the additional SKU cost is minimal.
Cons:
They're not as durable. If your product will endure excessive applications such as chemical exposure, sanitation through a washing unit or long-term outdoor UV exposure, clear labels probably won't withstand the test of time without fading or damage to the label.
You'll have to go through two separate processes. First, you'll need to have your labels printed. Then, you need to apply them to your packaging. This additional step may result in another setup costs or transportation costs from one facility to another.
The label's coverage might not be as vast as you'd like. If you have a specially shaped container, such as a tapered bottle or tube, your label size may need to be limited, reducing the graphic area. In this case, a shrink sleeve label may be a better option.
Bottle Screen Printing vs. Clear Bottle Labels: Which is Right for You?
There are a lot of factors at play when trying to decide whether to use bottle screen printing or clear bottle labels. To find the options that are right for you consider the following:
How many skus do you have?

What shape is your product packaging?

How many colors do you need to have on your label?

Where will your product be used?
Question: Which is right for your product packaging?
There are upsides and downsides to each. Ultimately, the choice is yours to which label you choose. No matter which option you decide to go with, The Label Link can help.
Want the best of both worlds? You might not have to decide. Did you know you can have labels printed with silkscreen inks, which is a great way to combine the benefits of both silkscreen and labels?
Can't decide what's right for you? Let's talk. One of our label experts will guide you through the steps to consider which is the best fit for your budget and objectives. Email us to set up a no charge consultation and we will be happy to help you decide.