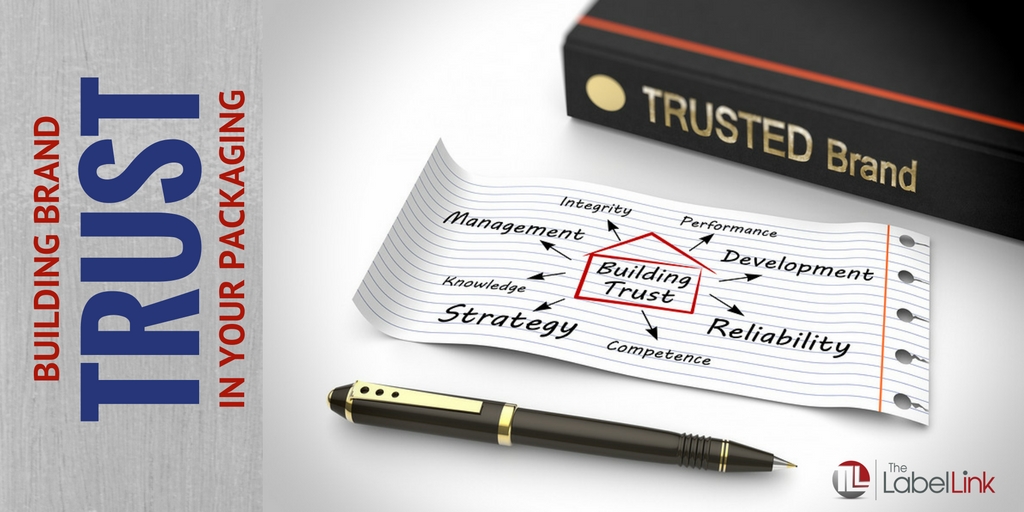 How to Build Trust With Branding and Packaging Design
Branding. It's how your business is perceived by consumers today – even those who have never tried your product or know much about your service.
Your packaging is often the first introduction consumers have to your brand. With proper design, you can build instant trust and convince buyers to pull yours off the shelf ahead of your competitor.
But building trust with branding and packaging design isn't always easy. Here are five tips to get you started.
1. Hone Your Voice
Finding your voice is perhaps one of the hardest things to do as a brand. Before you create your product labels, define your voice.
Will you be kitschy or sophisticated?

Will you infuse humor into your writing or keep it buttoned up?

Will you use certain terms or avoid jargon like the plague?
Outline what your voice will sound like on all of your marketing materials – not just your packaging. This way, when a customer reads your label after reading an advertisement, he will know with certainty that it's you.
2. Be Transparent
When I was traveling recently, I had to do laundry in the hotel. I bought my 1-load box of detergent from the front desk and noticed on the side of it, it said, "This package is less than half full because Ultra Cheer is so powerful, only a small amount is needed to clean one full washload. The package size must remain the same to dispense out of vending machines."
Cheer knew that customers might have doubts about the quantity they were receiving. They anticipated concerns about customers feeling misled in terms of packaging size and seized the opportunity to both knockout potential misunderstandings and brand their product as being powerful enough to not need as much product.
It's this type of transparency that wins the hearts of consumers. They know the business is being honest because they address concerns before the consumer ever raises them as an issue.
3. Stake Your Claims
Is your product made without GMOs? Is your product certified organic? Stake your claim on your packaging!
Many consumers seek out brands who are able to make these types of claims. By sharing the processes that make your product unique, your consumers are better able to differentiate why they should choose you over your competitor.
But be careful! Not every product is "certified organic." Not every product can claim to be "all natural." And even if you are, there are very specific guidelines you must follow when marketing your product this way. Get approval from the Food and Drug Administration before putting these marks on your label.
4. Form a Bond
You might never see or verbally talk to your consumer but that doesn't mean your company cannot form a bond with your buyer. Your packaging and labels are the prime place to do this.
On your labels, share your customer's story. Talk to your customer in a way that makes him feel like the product was built specifically for him. To form this bond, you must have an intimate understanding of what makes your customer tick beyond your product.
For example, craft breweries do this well when they talk about taking the beer camping because many of their target markets are "outdoorsy" people. You'll frequently see "Pack It In, Pack It Out" written on the side of the aluminum cans because they know these beers will be taken to campgrounds or lakes. The friendly reminder not to litter is welcome amongst people who love nature, making them feel instantly bonded with the brand.
5. Be Unmistakably You
It's easy to try to mimic big brands. After all, they found success with a certain packaging design. Why can't you do the same?
The answer: Because it makes you look like a copycat brand, which instantly reduces your credibility.
Carve out your own niche. Create your own artwork, color scheme and typology for your packaging. The more unique your designs are to you, the more trust your customers will feel toward your brand.
Question: What have you done to build trust with your consumers?
In today's world, it's vital that brands build trust with their buyers. Without doing so, buyers could easily float over to a competitor without blinking. The more trust you have with your buyers the better able you are to earn repeat business and grow.
If you'd like a little extra help with building your brand's trust factors, contact us. We'll work with you on the way you label your product so you can stand out on the shelf.