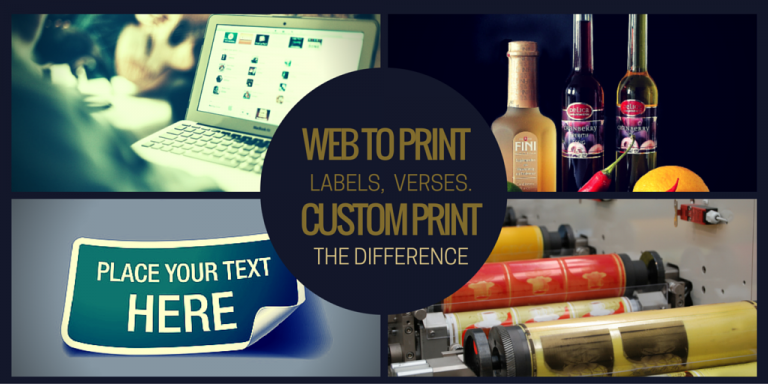 You've probably seen or heard plenty of commercials for web-to-print companies, such as VistaPrint or Moo.com. These companies promote themselves as "marketing printers for small businesses" or the go-to spot for business cards, calendars, stationery, labels, websites, and more.
They're used by many startups because they're cheap.
When Web-to-Print Label Orders Make Sense
To keep costs low, these printers combine orders and print in bulk. For example, when you buy labels from web-to-print companies, your order is likely printed alongside several other orders with the same size and shape. The companies are able to print higher quantities at once making it easier to charge you less for smaller batches.
It's an ideal niche. You get the competitive pricing without having to buy more than you need. If you need less than 500 labels and the design done for you, these companies are a good source.
But there is another side to consider:
When It's Risky
As you start to increase the number of labels you need, the price will sneak up on you. It's not well-known. It is often, understandably, assumed that the more you order, the cheaper the price will be.
With web-to-print companies, that's not always the case.
When you buy from an online mass print company, you're buying:
A commodity product with standard shapes and sizes. Usually, these sizes are limited so you'll have to settle for something you want instead of getting the exact label you need.

Template designs used by others in your field and beyond.

Basic materials usually limited to white paper/film with standard room temperature adhesives.

Limited color print options, usually only CMYK.

On screen proofs instead of real-life proofs.
The options aren't plentiful because you're working with a company that also includes business cards, letterheads, door stoppers, and a myriad of other promotional products. Labels are only a small piece of what they offer, so your options are dramatically reduced.
Do You Want Your Labels to Blend In?
If you're just getting started, having eye grabbing labels might not be a priority to you yet. Right now, you just want to ship. In this case, labels from web-to-print companies might be the right solution.
But recognize if you choose web-to-print companies, you're limiting yourself. Here's what you could be missing:
Personal consultations about your labels and packaging, including the best materials for your particular needs.

Consistency from print-to-print.

Variable sizes to match your containers.

Spot color printing or special color matches, essential for strong branding.

Metallic ink options to make your labels pop.

Special effects, such as foil stamping or embossing.

Special coatings, such as gloss/matte combinations.

Online and printed proofs so you always know exactly what you're getting.

Press checks to be present while printing so you can make any necessary adjustments and approve the labels right before they go to production.

More adhesive options for hot or cold temperatures.

Varied materials, such as clear, paper, metallic prints, linen laminations, and more.

Higher performing labels in moisture rich environments, UV light, on squeezable containers, etc.
Yes, there is a lot to consider.
When you are in need of higher quantities, specialized printing, or custom branded materials, web-to-print companies cannot deliver up to par. With a custom label printer, you're better equipped to gain more attention from your buyers, which is worth the slightly higher cost every time.
Question: Have you reached the point in your business where you need more labels with higher quality?
Many companies turn to custom print manufacturers to gain control over the items not offered from web-to-print companies. To compete, it is imperative that your product stands out on the shelf. You need to get noticed to get revenues!
If your product labels don't function appropriately, you could be missing out on profits. If you need any type of unique label, such as squeezable, matte, clear, moisture-resistant, UV resistant, etc., it's vital you work with a custom manufacturer. You might be surprised at how affordable this type of printing really is.
Compare prices between web-to-print and custom printers today! Contact us for a quote and to learn more about the difference we can make for your business.