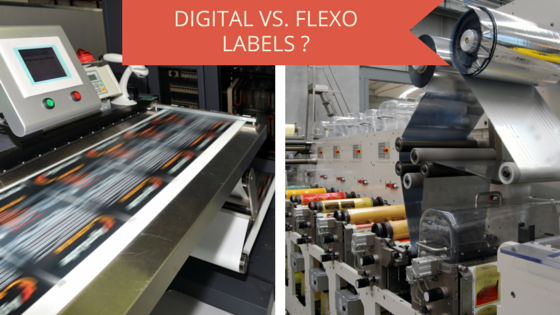 "There's a time and place for everything…and now isn't the time or place to _______ " (fill in the blank).
Ever heard that quote before?
Well, the same is true for which product label printing method you choose—there's a time and place for each and if you get it wrong, it won't be pretty…literally!
When it all comes down to it, you've basically got two choices—digital printed product labels, or flexographic printed product labels. If you're in the packaging and design industry, those aren't new terms to you. But, if you're a product manager, an entrepreneur with a packaged item, or you're just researching how to choose the right product label printing method for the right scenario, your eyes may already be glazing over as you read the post. But, stay with us! It will help you, we promise.
The three biggest factors to evaluate before choosing a label printing method are:
1. The size of your job. How many product labels will you be printing? Are you testing a new product in the market to get an idea of which label design sells better? Or, maybe you're a private label product manufacturer and you're printing large quantities of product labels. Understanding the size of your print job is one of the biggest factors to knowing which type of printing method to use.
2. The purpose of your print job. Are you testing various label designs in smaller market samples, or are you printing mass production on an already proven product? The end result of what you're trying to accomplish will impact your choice of printing method.
3. The cost of your print job. This is where it gets fun. What type of materials do you need to print on? What colors do you need to use? What environments will the products pass through? Answering all these questions impact your cost and, therefore, the appropriate printing method. 
If all of that is too much to remember, just remember these three terms:
Consistency

Scalability

Flexibility
Think of those as a filter, or cheat sheet for which type of printing method to choose. With that said, here are some pointers on when to use digital printing and when to use flexographic printing.
When To Use Digital Printing:
1. When you need to do product testing or prototyping.
You've got a new beauty and wellness product, but you're not sure which package design will sell the best. This is where digital printing comes to life. You can rapidly prototype various label designs at a fraction of the cost of using traditional printing methods.
2. When you need variable data on an item.
If you're product labels feature sequential numbering or personalization, you'd spend a ton of money attempting to use flexographic printing trying to achieve this. But, digital printing handles it beautifully. Why? Because there aren't any plates to change out and because the labels are printed in 4 color process.
3. When you have a quick turnaround time.
As mentioned above, digital printing requires very minimal setup. As a result, you're able to drastically increase your turnaround time with your product labels. No plates to make.  Less waste as print registration is almost instantaneous.
4. When you need very detailed printing or clean gradients.
Gradients and detailed print often require very fine dots (between 1%-15%), above that, the print quality difference is usually not very noticeable.  One of the great features about digital is that there is minimal "dot gain".  So if you print a very tiny dot, it remains that way. In digital, there are no plates and the ink transfers to an offset-like cylinder so the dots aren't as affected by impression. The end result is a clean, precise image print.
Conversely, flexographic label printing uses photopolymer relief plates with raised image elements that are flexible & can gain upon heavier impression.  No mistake, flexo prints high quality. But when it comes to gradients & "softer" fine line imagery (picture wine labels showing vineyards into the sunset), digital print often takes the prize. 
When To Use Flexographic Printing:
1. When your product labels need actual metallic inks or foils.
Digital Printing for labels generally is limited to 4 color process which excludes metallic inks.  While you can certainly compensate by printing on metallized stocks to create a foil appearance, if you need to match a metallic ink carton or print a foil, this may require a costly secondary process in digital.  Few digital printers have this capability.   True foil stamping and metallic ink printing is usually best achieved via flexographic printing. 
Remember, your labels are part of your company brand and an inconsistent label to the rest of your packaging doesn't reflect your brand in a good way.
2. When you need a large quantity of product labels (as in 5,000/sku or more).
Digitally printing your product labels is often less expensive for smaller quantities and has little setup costs but it prints slowly.  Flexographic labels print much quicker so at some point, the speed efficiencies outweigh the set up costs. The crossover – the point where it makes more sense to print on flexographic printing vs. digital printing – varies according to the label size & set up. It is driven by the total lineal feet of the combination run.  So, if you need more than 5,000 labels/sku, we generally start to consider flexographic printing as a price alternative. 
Yes, digital is great for product testing, or label design testing on a small scale or even for just-in-time manufacturing. But, when it's time to ramp up production, you'll want to use flexographic printing to save more money.
3. When you need greater accuracy in color on a large scale.
We won't get too technical here, but digital printing uses a four color process to derive a color. That means that it won't be an exact match against a pantone color swatch. But, flexographic printing allows you to get an exact match, and it will be consistent across every product.
Flexographic printing also uses inks that have a faster drying time. So, once your colors and design elements are established, you can print more labels at a lower cost, in a faster time frame.
Again, this is an issue of consistent quality. You don't want a product on the shelf with one color and the same product with a slightly different color label.
4. When you need special effects or coatings.
Product labels today are as varied and diverse as the products they contain. As a result, you need a label printing method that can handle such a variety without breaking a sweat.
Special effects, (the great differentiator) like glitter, tactile coatings, embossing, etc., can present a challenge with digital label presses. 
As noted previously, some digital printers have specialty units in place that can handle the capabilities as a secondary operation (translation, added costs)  but most do not. 
As a standard, most digital printers will laminate their labels in-line instead of a varnish as a second pass print.  And typically, combination varnishes (i.e. UV gloss/UV matte) or spot varnishes needed for wrap around labels are out of the question.
But a flexography combo press has the capability of producing all these special effects and more.  And what better way to make your product stand out on a shelf.
Use these tips as a guideline and you won't go wrong.
Maybe you don't have time (or the energy) to think through this. That's where we come in! We are product label consultants and can walk you through the entire process to ensure your product labels are so appealing they cause your products to fly off the shelves.
Contact us here to schedule a free, 15 minute consultation! We're here to help.
If you like this article, be sure to subscribe for more useful tips and tricks each week, direct to your inbox.