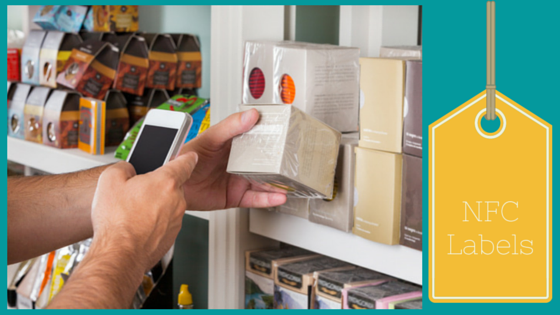 There is a new technology that has the potential to revolutionize the label and packaging industry. This technology can increase customer interaction and satisfaction while simultaneously providing valuable data about the consumer and the product viability.
Welcome to the new horizon of the label and packaging industry. Welcome to NFC technology.
What is NFC?
NFC, short for Near Field Communication, is a type of technology that allows the transfer of data using radio waves from one device to another by touching them or putting them close together. There are three primary modes of operation for NFC chips:
Peer to peer, which occurs when two smartphones swap data, such as pictures, music, and other types of files. 

Read/write mode, which allows one active device to receive information from a passive NFC device or tag, which is the main method currently being used by the label and packaging industry.

Card emulation, which allows NFC-enabled devices such as smartphones to be used as a contactless credit card, is already being used in payment systems such as Android Pay and Apple Pay.
How feasible is NFC technology for the labels and packaging industry?
Far from being just a concept, NFC technology has already been explored in higher end products such as luxury goods. For example, Johnny Walker has received rave reviews for its clever usage of NFC enabled labels on its Blue Label whisky, which has made it possible to track bottles and also send personalized messages to those who purchase their product. 
Benefits of NFC technology to the label and packaging industry
You may be asking: how can NFC technology help those in my industry? In fact, NFC technology will provide a wide range of benefits for those who are willing to hop on board the NFC train! Some of these benefits include: 
Unique customer interaction – Everybody loves to feel special, and NFC technology can help make that difference. NFC technology is able to send personalized messages or unique forms of interaction that will make the label itself a big point of differentiation and a selling point for those products. Because these labels are smartphone integrated, it allows for rich media integration such as audio and video delivered straight through the customer's smartphone.
Collect valuable customer data

– Data is big business, and the more information a company can collect the more accurately they can predict customer demand. With NFC-enabled technology encouraging consumers to connect and interact with their brand, it allows brands to monitor customer behavior on a level previously unheard of.  NFC technology collects data that the customers themselves provide every time they connect to an NFC tag. 
Quality control – NFC technology will allow companies a level of quality control never seen before, as the tags

can be programmed to sense heat

 , meaning that companies can check whether or not goods have been spoiled or even prevent them from spoiling in the first place
Inventory tracking – NFC tags will enable you to easily track product shipments and inventory, meaning that you can make quick and accurate assessments about the distribution of your product. 
Anti-counterfeit and tamper measures – NFC technology will make it far more difficult for others to tamper with or produce counterfeit goods. The labels are almost impossible to

copy or modify

and one can check with a tap of a phone whether the seal has been compromised. This is especially useful for

luxury goods that are often counterfeited

. 
Loyalty programs and incentives – NFC technology allows companies a new way to attract and keep customers with creative buyer incentives. NFC tags will allow for quick and easy verification of customer ID and make giveaways, loyalty programs, prizes, and other customer incentives a breeze.
In short, NFC technology is poised to make a huge impact on the label and packaging industry. What type of information would be useful for you to capture through NFC technology? Let us know in the comments section below.
Also, did you love this article? Then sign up to our email list to receive more trending news and hot tips just like this every week. You'll also receive our FREE ebook 6 Graphic Design Tips That Will Save You Money when you sign up, so don't delay!