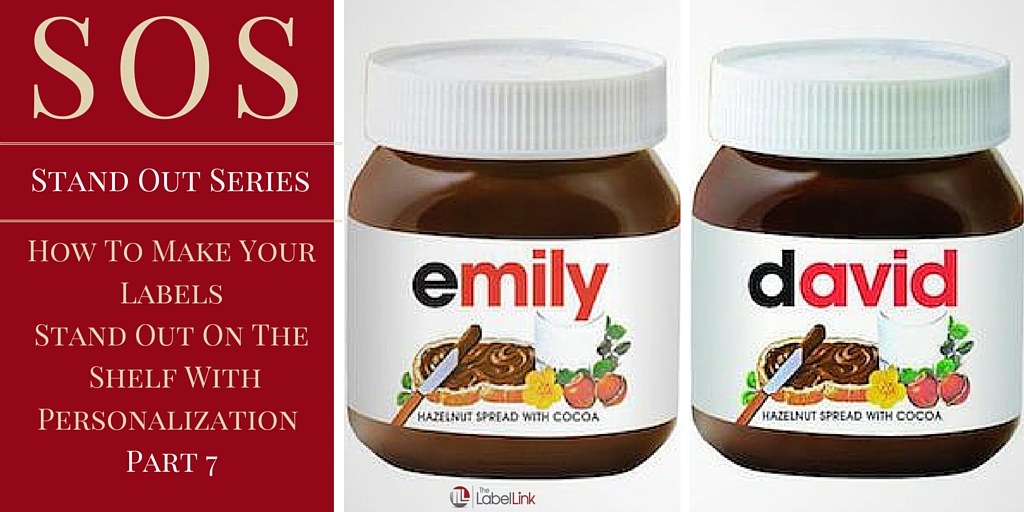 Get Personal With Your Labeling To Drive Sales
Walk down the aisle of your local grocery store and chances are you'll see it. The 2011 "Share a Coke" campaign put 250 different names, titles and other expressions on their coke cans in an effort to personalize a rather mundane product.
The goal? To catch the eyes of customers while they shopped and increase sales over the summer period.
The campaign was a success. 2011 was the most successful summer for Coca Cola with a 7% increase in young adult consumption. Traffic to the website increased by 870%, Facebook fans grew by 39%, and the brand received stellar feedback from consumers. Based on this success, the company launched over 2 million different bottle designs to continue to capture the interest and excitement of the campaign.
The key to their success? Variable imprinted labels and personalization.
Personalization is the Key to Success
Dealerships do it. Sweepstakes do it. Even beverage companies do it. Marketers across all industries are using personalization to catch the attention of their target audience.
This strategy works because:
It drives engagement between a brand and a buyer;

It connects businesses with consumers;

It brings in "first time try and buy" traffic;

It creates long-term, loyal customers.
The struggle is finding a way to use your labels to connect with large audiences on a personal level.
In a crowded market, how do you find that unique selling point that makes your product different than the rest? How do you keep them coming back for more?
In this seventh installment of our Stand Out Series, we'll show you how companies have used their labels to drive the bottom line.
Here are a few examples you can use to glean inspiration.
What's In A Name?
Dale Carnegie said, "a person's name is the sweetest sound."
People love hearing the sound of their name. It means they're being spoken to one-on-one. They're getting something uniquely special meant just for them.
Personalization is often used by brands to generate a keepsake item.
Wine labels for weddings

Water bottles for special events

Sunscreen for golf tournaments
No matter the item, brands often use personalization to connect on a more intimate level with their consumers.
Promotional Personalization
The goal of personalization is to promote sales. To drive repeat sales, many brands offer exclusive information via their labels to encourage buyers to make a purchase. Here are a few classic examples:
Games. Grocery stores and fast food chains often times play games to get people to come back for a repeat purchase. For example, McDonald's hosts an annual Monopoly game where patrons get tickets on certain items and could win big prizes.
Recipes. Food items add recipes to their labels to inspire family dinners. By showing different recipes on the same food item, they encourage more sales by giving the product more usage.
Jones

personalizes soda bottles

with custom labels. Buyers can design their own labels to stick on their favorite flavor of soda. This is ideal for parties, weddings, and baby showers.
Christian-based companies often personalize their products by including a biblical verse on their packaging.
Label Personalization Using Variable Imagery
Another form of personalization is using variable images. These are ideal for seasons, sports, or limited edition products.
Here's how some brands are using them.
Budweiser is using the NFL football season to put team logos on cans and inspire camaraderie at events.
Seasonal sales flourish when commodity items use imagery to get involved with the holidays. For example, a liquid hand soap might be labeled differently during the fall season than the spring.
Awareness months are also commonly used to drive sales. Pink is commonly added to items in October to spur donations for breast cancer awareness.
Limited edition products require a personalized label too. With reduced availability, more customers are likely to buy to get their hands on one of these before the sale is over.
Question: What's your favorite personalization tip? Have you seen any examples that caught your eye while shopping? Share with us in the comments.
With the advent of digital printing, label personalization is more affordable than ever. The benefits are extraordinary. Need proof? Just look to the many companies currently incorporating personalization into their product designs and marketing campaigns.