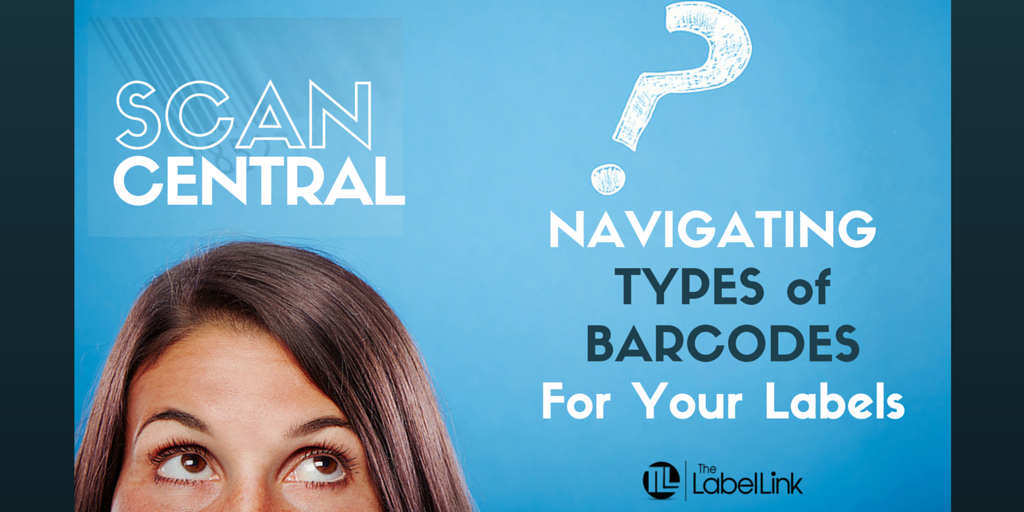 Scan Central: Types of Barcodes Needed for Your Packages and Labels
You know you need a barcode for your packages and labels. As you set out to claim yours and get started with the labeling process, you might notice that there are several types of barcodes for you to choose from. Which ones are right for your products? Which ones do you need? The answers are not always clear.
The more you research, the more complex it becomes. It seems that there are so many different barcodes but not all of them are necessary for your specific product.
To help you decipher which ones are right for you, here are descriptions of the most used types of barcodes and how you can tell which one is best for your needs.
UPC
UPC stands for Universal Product Code. It's "universal" because it lets your product be scanned many countries around the world – not in one geographic region. Although it's primarily used in the United States, it can also be scanned in the United Kingdom, Australia, New Zealand, Canada and other countries.
Most products will have the UPC-A code. This code has 12 digits at the bottom. The first part of the code is your company's identification number. The second part is your product identification number. Here's where to get UPC barcodes for your products.
Some UPC codes are shorter with only 6-digits. These are known as UPC-E codes. They're only used for products that require a smaller barcode.
Code 128
Code 128 barcodes are used for logistics and transportation. These small, compact codes are usually only applied to products that are not sold over the counter. For example, if your store sells your products online exclusively, you'll need a Code 128 barcode to track your inventory while shipping.
These codes are unique because they can store a great deal of information behind the lines, letters and numbers. They support all 128 characters of the ASCII 128 character set.
Code 39
Code 39 barcodes are most often used in the automotive industry or by the US Department of Defense. Although these are the most common industries using this, the Code 39 barcodes can be used by a variety of industries too.
When this style of barcode was first created, it could only use 39 digits or characters. Hence the name. Now, it can use up to 43, making it a little more robust and slightly larger than the Code 128 style barcodes.
QR Code
A QR Code doesn't look like your standard lines, characters and digit UPC bar code. It is a 2-dimensional matrix made up of square shapes.
Many businesses use these on their products or labels to direct customers to more information online. When it's scanned by a smartphone or tablet, a website will pull up detailed information about the product. This gives companies more flexibility to add information about the product without taking up valuable space on the label or advert.
EAN Codes
EAN Codes are another style of barcode used to scan products in-store during the checkout process. These codes are usually only found in Europe, although their appearance looks very similar to that of a UPC code. The biggest differentiator is their regional application.
Like UPC codes, there are two main types of EAN Codes. The first is the most popular, which is the EAN-13. This has 13 digits instead of the UPC's 12. The second is the EAN-8, which is also used for products where space is limited.
Question: Which barcode have you used on your product labels?
Tell us in the comments below. It's helpful to other businesses to hear which barcodes you associate with your products and why. That's because there are so many factors to consider while selecting the type of barcode best fitted for your product. For example:
Where do you plan to sell your product?

How do you plan to distribute your product?

How big is your product?

What industry are you in?
The answers to these questions will help guide you toward the right barcode for you. Or, if you need extra help, we're available to answer your questions too.

Shoot us an email

and we will be happy to help you sort through the options.