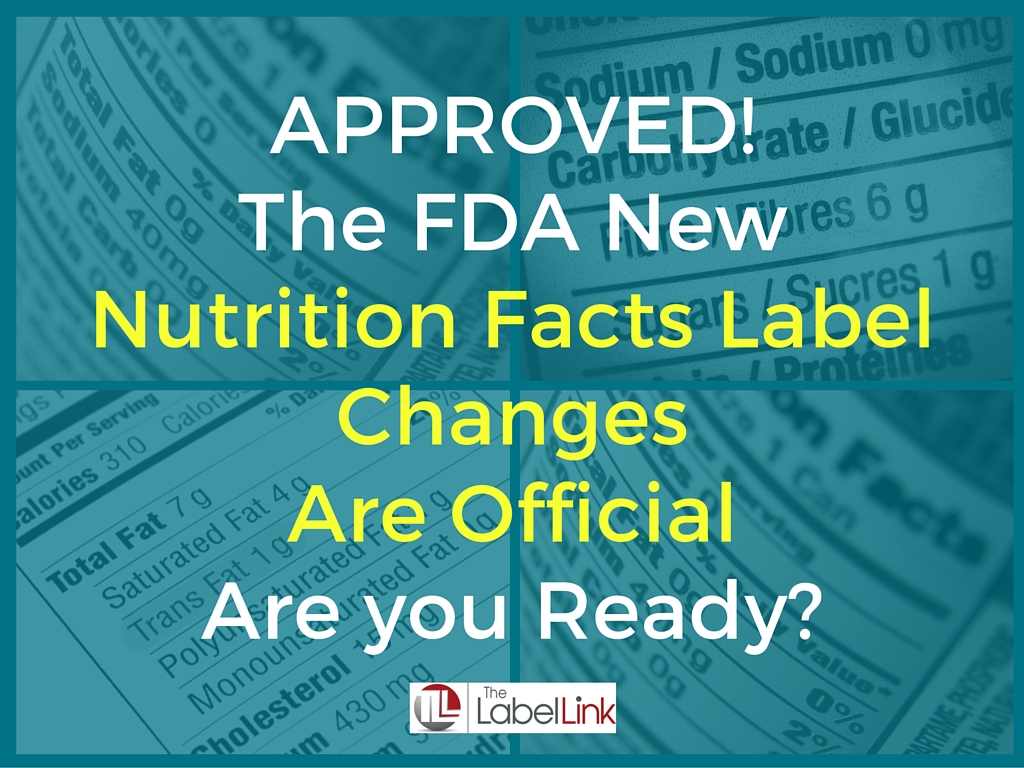 Approved! See the Latest Nutrition Facts Label Changes
We knew the changes were coming. In February, we warned you about the latest proposed changes by the U.S. Food and Drug Administration (FDA) to the nutrition facts label and now, they're here.
The FDA approved several important changes to how food and beverage items disclose nutritional information on their labels. The goal? To help more consumers understand what they're putting into their bodies as a way to make better nutritional choices.
Here's everything you need to know as a food and beverage manufacturer.
The Nutrition Facts Label Changes
There are three core updates you need to know about.
Although the label will still be recognizable to consumers, there are some slight design changes the FDA has put in place. This includes:
Larger type size for the calories, servings per container and serving sizes;

Bold number of calories and serving sizes;

A declaration of the actual amount of and percent Daily Value of vitamin D, calcium, iron, and potassium;

A smaller footnote explaining Daily Value, which will read,

"

*The % Daily Value tells you how much a nutrient in a serving of food contributes to a daily diet. 2,000 calories a day is used for general nutrition advice."
Here's the FDA's example image of what the new label will look like:
Label Format:  Original Version (left) vs. New Version (right)
2. New Nutritional Requirements
The purpose of this redesign was to give consumers more information. That's why the FDA has added new nutritional attributes to the label changes. These include:
"Added sugars" in grams and as a Daily Value percent;

A requirement to include Vitamin D, potassium, calcium, and iron. Vitamin A and C do not have to be disclosed any longer;

The removal of "Calories from fat" from the label;

Updates to the daily values of nutrients, such as sodium and dietary fiber based on new scientific evidence from the Institute of Medicine.
Most manufacturers will need to undergo an updated nutritional analysis to reflect these changes.
3. Serving Size Updates
The last time the serving and packaging sizes were updated was 1993. Since then, the amounts people eat have changed, which means the sizes must change on the labels too.
Here are a few examples of how this will change:
Serving sizes must be updated to reflect how much people are realistically eating in one sitting.

For example, ice cream serving sizes will be updated from ½ cup per serving to ⅔ per serving, since most people are eating more in one sitting;

Packaging that is between one and two servings should reflect the nutrient content in the full container.

For example, soup cans that are 15-ounces should be labeled as one serving because most people are consuming it in one sitting.
Why This Matters to Consumers
The purpose of the FDA's latest updates is to keep consumers better informed about what they're ingesting when they consume a processed food or drink item.
The FDA dug into the latest scientific findings and realized the old labels weren't giving consumers enough information. Based on the new links between diet and chronic disease, including heart disease and obesity, the FDA realized they needed a better way to educate the market about their food choices.
The newest change to the nutrition facts label is their effort to make this clearer to consumers.
How This Impacts Your Label
As a food and beverage manufacturer, you now face the enormous task of re-designing the labels for your products.
You have until July 26, 2018 to make these changes so don't feel like you need to pull all of your current inventory from the shelves. The FDA will give you a grace period to update your labels.

With that said, it's important you start the process now. This is especially important if you will need to have an updated nutritional analysis done to convey the updated sugar levels and nutrients.  Not sure where to go to get your nutritional analysis done?  Click here.
We've covered quite a bit on this in the past to help you get a head start on making the necessary nutrition facts label changes when they happened. Now that they've been approved, it's time to get moving.
Question:
How soon will you start updating your product labels?
There's no time like the present! July 2018 might sound like it's years away (and it is) but it'll be here before you know it. Waiting to make the changes could cost you big time money. Don't let uncertainty stand in your way. We're here to help. Give us a call at 877-836-8337 to chat with one of our label experts and get started on this today.