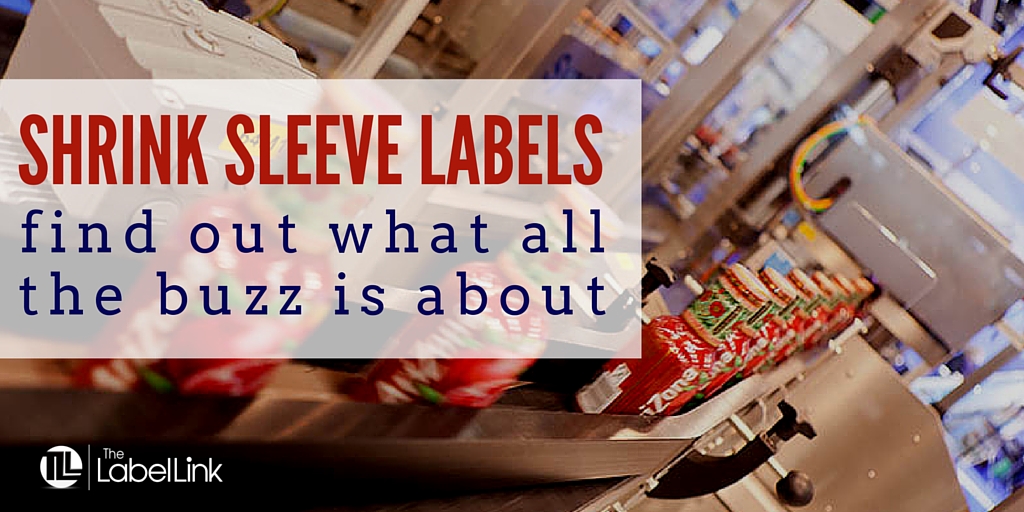 5 Reasons Why Shrink Sleeve Labels are a Popular Labeling Choice
Looking for a new way to stand out on the shelves with your product's label? You might want to consider shrink sleeve labels.
Shrink sleeve labels are those that wrap around the container of your product. They're flexible, attractive and durable. With attributes like those, it's no wonder so many products use this style of labeling.
Here are our top five favorite reasons you might want to consider shrink sleeve labels.
1. You Get 360 Degree Branding
Shrink sleeves wrap around your entire container, which means your brand is seen no matter how a person holds the bottle or puts it back on the shelf. This type of 360-degree branding is helpful when you're trying to get exposure. No matter how your product is displayed on the shelves or while in use by your customer, people know it's yours.
2. It Works Well With Odd Shaped Containers
Sometimes, the shape of your container can limit the type of labeling you use. This can make labeling extraordinarily difficult.
Shrink sleeve labels solve that struggle. They adhere to the irregular shapes in your container so everything is even. If you plan your design right, you can use your labels to bring those shapes to life, making your products stand out on the shelves.
3. You Can Easily Add a Tamper Evident Seal With Ease
Ever since the Tylenol tragedy after their bottles had been tampered with, food, drug, and personal product manufacturers have become even more aware of the need for tamper evident seals.
Shrink sleeve labels make it easy to secure your products until after they've been purchased. One brand that does this well is Tic Tac with their 200-mint bottles. In order to access the mints, the consumer must remove the top half of the label making it impossible to tamper with the product without anyone noticing.
4. Your Containers Are Kept Eco-Friendly
Want to go green in your business? Not sure if you want to use eco-friendly labeling? Shrink sleeve labels are a great alternative. They enable you to keep your containers eco-friendly without having to worry about adhesive or other non-eco friendly labeling concerns. Consumers can discard the shrink sleeve wrap and throw the container in the recycle bin.
5. It's Abrasion Resistant
With shrink sleeve labels, you keep your products looking good! These labels are resistant to scratching, tears, and other damages.The graphics are mirror finish printed, which means it's harder to scuff or scrape the coloration off the label. You never have to worry about having your label tarnished during the shipping and unloading process.
Here's What You Should Know About Shrink Sleeve Labels…
Convinced yet? If you're considering shrink sleeve labels after reading these five benefits, there are a few things to know about how they're made and what to expect after the label is applied.
The film for these labels is created in a sleeve. You will often times receive these labels in rolls for auto application. If you're applying the labels by hand, you will receive it as a cut sheet.
Your labeling company will send the label to you in a refrigerated truck so it does not ruin the material. Be sure to store these labels in a cool place so they can remain in the best condition possible.
To apply these labels, the shrink sleeve is heated up to conform to the shape of your container. This is why it's so easy for the label to conform to odd shaped containers – it melts perfectly into place. Please note: If you're using an odd shaped container, it's a good idea to do a grid pattern test label. Most labeling companies will provide this after reviewing the bottle to determine the level of shrink and the distortion needed for the art files. This way, if your container has odd shapes and contours, the label still looks flawless when it's applied.
Question: Have you ever tried shrink sleeve labels? Why or why not?
The benefits to this type of label are clear. They look good, maintain their integrity, and keep your business eco-friendly. We're especially fond of them because they make it impossible to tamper with your products without anyone noticing.
Do you want to see an example of this label for your containers? Contact us to chat about whether this is a good label option for your product.