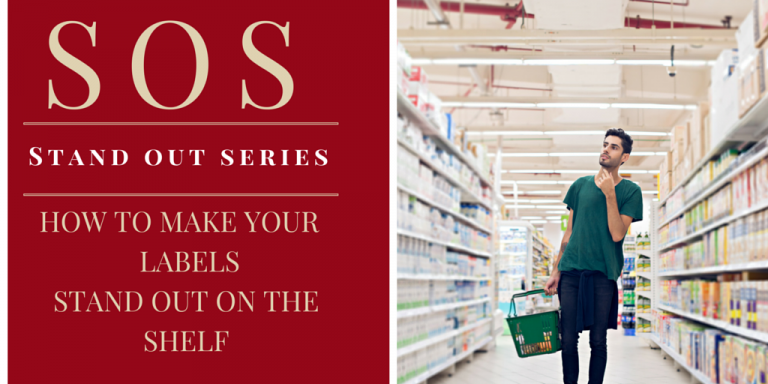 You're in the supermarket, searching for your usual favorite bottle of wine, only to realize that they've run out! You scan the aisle, looking for a worthy alternative. Suddenly, something catches your eye: you're drawn, transfixed to one product with a label whose colors pop and whose unique design swirls in your mind even after glancing at the other options. You're sold the moment you lay eyes on it.
Introducing our Stand Out Series (SOS):
How To Make Your Labels Stand Out On the Shelf
In our SOS series, we will explore the most important concepts that will ensure that your labels and products stand out from your competition. We will take you through the best practices, tips, and tricks to create labels that are memorable and drive purchases. Every other week we will post an informative blog post that will examine, in depth, 8 different aspects of label design that will allow you to create great eye catching labels.
Why is it important for labels to stand out?
If you think that making your label stand out is unimportant, think again.  At least 64% of consumers will buy a product without having prior knowledge of it.  And packaging components such as labels is the biggest influencer of purchase decisions, having more influence than tv ads or recommendations from friends. In addition to influencing purchase decisions at the point of sale, there are a number of other benefits of having labels that make your product stand out, such as:
Customers will be more likely to remember your product

Customers will be able to identify your product more quickly

Customers more likely to provide positive reviews of your product to friends

Customers more likely to share pictures of your product on social media
So by now, you're probably sold on the importance of having labels that stand out. The question is, how do you create labels that grab customer attention by the collar and pull them towards your product? If you're interested in finding out, then you'd better read our upcoming Stand Out Series.
Here's a sneak peek as to what we will cover in our series:
Bright colors
Special Stocks
Tactile – High build & Silk Screen
Special Die cut Shaped Labels & Reveal Cut Outs
Foils & Embossing
Patterns – Holograms & Glitters
Variable imprint
Coatings,  Matte, Gloss, Combo & Iridescent
Question:  What else do you think make labels stand out on the shelf? What other label aspects would you like to hear us talk about that will positively impact your sales and brand image? Let us know in the comments section below.
You can also sign up for our email newsletter to be notified immediately when the next post publishes. You will also receive other useful tips and tricks to create packaging and labels that will help to increase your product sales. Join us today!