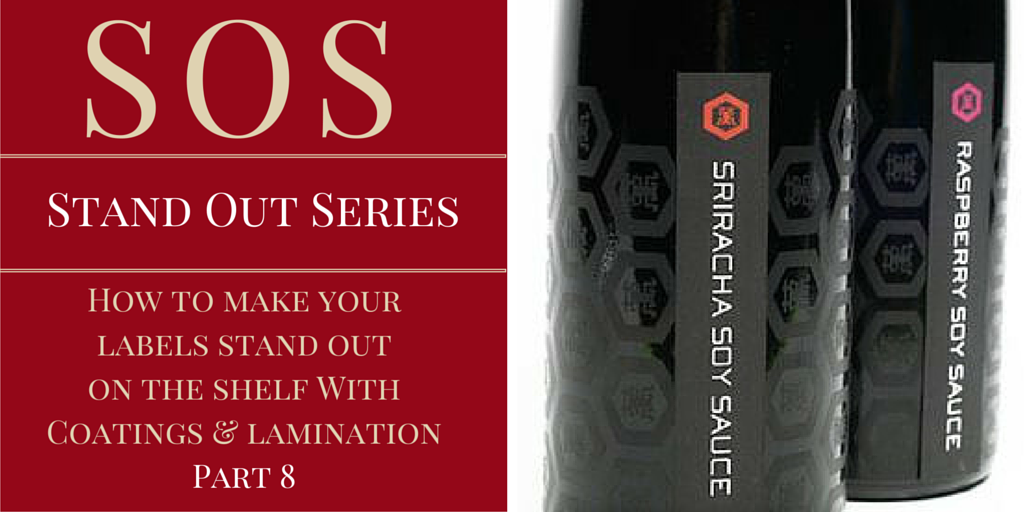 Enhance the Look with Label Coatings and Lamination
When you start planning what your label will look like, what's the first thing that comes to mind? Colors? Images? Fonts?
The graphics you use are undoubtedly a vital part of your design. This is part of what will draw in a potential customer and get him to buy. What's equally as important (and too often forgotten) is the varnish or lamination to secure your look.
Varnish and lamination can often work as unique ways to stand out on the shelf. About 99% of products we print at The Label Link have some type of label varnish or lamination, yet most customers don't know to ask for them. When we pose the question about what they'd like, we're often met with blank stares. Too many product creators don't know the value of this important step in label creation.
Why Varnish and Lamination?
There are three reasons why you'll want to take notice of the type of label varnish or laminations.
It protects the ink from smearing, scuffing or letting environmental damages hurt your intricately planned design;

It makes an unprintable surface printable by adding a coating that the ink jet or thermal printers can accept;

It creates a decorative look, making labels stand out on the shelf.
The design protection and printable surface creation are clear advantages. What you might not be aware of is how to use varnishes and lamination to make your labels more attractive. Let's take a closer look.
Varnish
There are several types of varnishes for labels. Some are used to enhance the way the label looks. Others are used to make the label feel better to the consumer. Knowing the differences will help you distinguish which one is right for your product.
Gloss Label Varnish
Like a photograph, you can choose to have your labels glossy. This appearance brightens up the finish and adds depth to your colors. It adds a sheen to the label. This sheen is not quite as shiny as labels with lamination.
UV gloss is the most common type of gloss varnish. It is used more often than water-based gloss varnish because it makes the colors of the label more brilliant.
Recommended use: Gloss varnish is best used for indoor products. You'll often see it added to the labels of vitamins, squeezable containers, or food products.
Matte Label Varnish
Again, like a photograph, some labels come in a matte finish. This is used as a more subtle or muted look, creating a look of elegance. Because of this, it can make some colors look a bit off shade. For example, blacks can look more like a charcoal grey.
Recommended use: A matte finish is most commonly used for elegant products where a muted look is the type of look the producer is trying to achieve.
Combination Gloss/Matte Varnish
Unlike photographs, labels can be spot printed in various varnishes adding a unique look to your label. The contrast makes your product stand out from the rest of the labels on the shelf by adding depth and texture to the coating.
Recommended use: Combination printing can add a dramatic look, especially on black surfaces. See this wine bottle label as an example.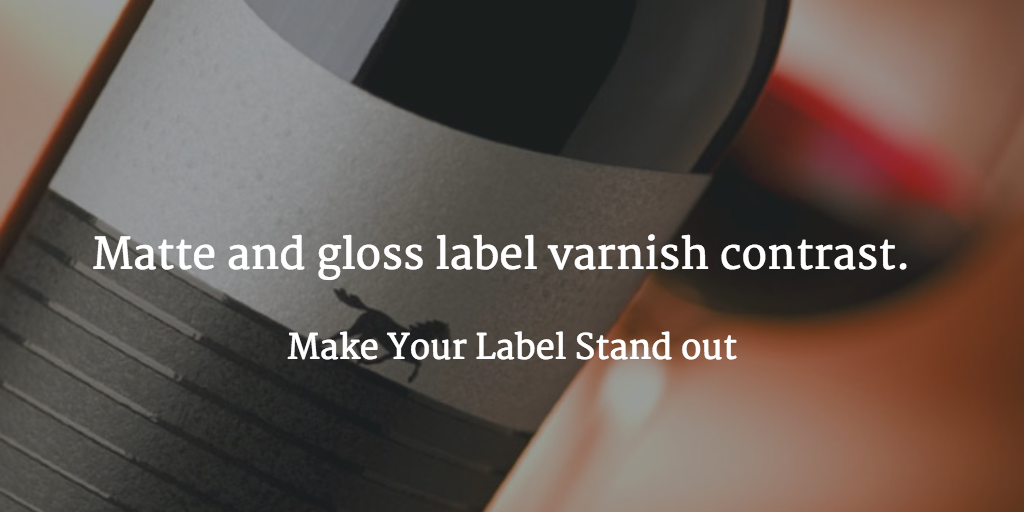 Specialty Varnishes
There are several specialty varnishes that add functionality and tactile appeal. Here are a few examples:
Imprintable varnishes are often used as a base surface when you plan to imprint a lot code, expiration date, or on-demand information. They're best used for variable information that can be added at your label via thermal or inkjet methods.
Soft touch varnishes make your label feel better to the touch. Many companies have found that screen print is the only way to retain the continuity of the tactile feel, but screen print limits you to a maximum of three colors. With a soft touch varnish, you can keep the feel of a bottle without diminishing the color.
Lamination
Lamination is another type of protectant shield. It's not often thought of in labeling, but the aesthetic benefits can be significant.
Gloss Lamination
Gloss lamination is a clear, film layer laminated over a label. It's extremely thin (no more than 2mm), so it won't feel like your average laminated sheet of paper. It provides a higher sheen and clarity than a varnish. Plus, it's extremely durable.
Recommended use: Because gloss lamination is more protective than a varnish, it's best used on products that face high moisture, outdoor environments, or contact with chemicals.
Matte Lamination
Want the protective benefits of lamination without the sheen? Matte lamination is your solution. This has a heavier weight than a matte varnish so the subtle effect of the label is more pronounced. It can also be overprinted with a spot gloss varnish to create a stunning 3-dimensional effect.
Recommended use: This is most often used in beverage applications, such as craft beer or wine, and personal care applications. It's equally ideal for harsh environments where the products are exposed to water, weather, or chemicals.
Wrapping Up
This marks the end of the Stand Out Series. If you missed any, here's a quick recap of what we've covered:
Question: Did you find this series helpful?
I'd love to hear your feedback in the comments! Or, if you missed any, I encourage you to go back and read them all to understand how to get your labels to stand out on the shelf.
The help doesn't stop here! Subscribe to our blog to keep getting useful tips about how to bring your labels to life. We post weekly updates to inspire you and keep you profitable.