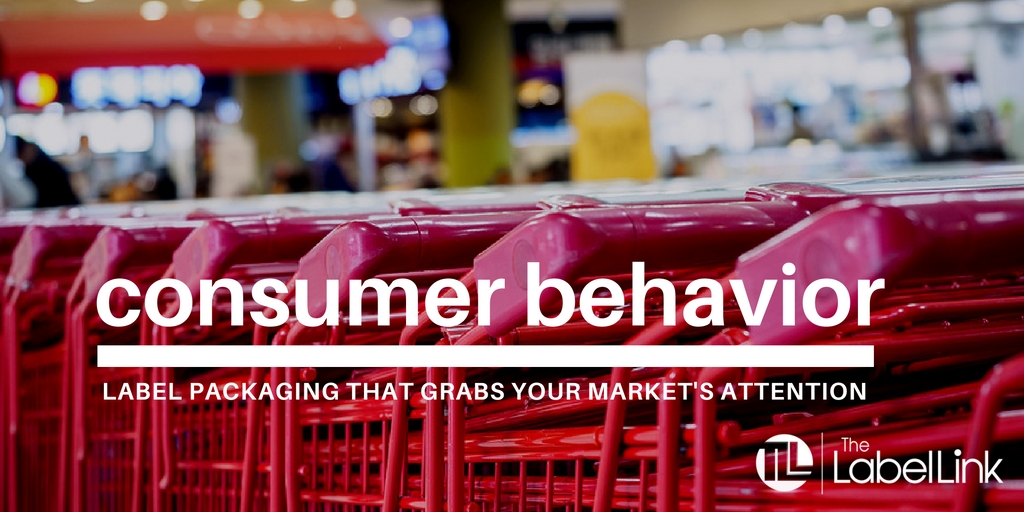 Designing Your Label Around Your Consumer's Purchasing Behavior
If you've ever doubted whether your product's packaging makes a difference in your consumer's purchasing behavior, you'll want to listen up.
In the 2016 Packaging Matters™ report from WestRock Company, studies found that:
66% of consumers tried something new because the packaging caught their eye;

60% of consumers purchased a product again because the packaging made the product functional;

35% of consumers changed brands simply because of the packaging.
Some brands worry that the increase in online shopping has reduced the need for stand-out packaging.
Teach 'Em About Your Brand
70% of consumers in the WestRock study said they use packaging to learn more about a brand. This is a tricky addition for many brands. After all, you have limited real estate to talk about your company. In that space, you're more inclined to (and should) talk about the product you're selling.
There are a few ways you can weave in more information about your brand:
Incorporate your brand's voice. If you're fun or funky, you can talk about your product while at the same time establishing your brand's unique tone.

Add a small company blurb

. With so many consumers wanting to learn more about your company, it makes sense to carve out a small area to talk about your overarching brand, if you're able to.
Weave together brand and product talk. When describing your product, weave in a few elements about your brand. You'll save precious real estate on your label while still answering the 70% of consumers who want to learn more about your company.
Make it Pop
It's no secret that standing out on the shelf is important. In fact, 66% of consumers tried something new simply because a package caught their eye.
There are numerous ways to make your product pop with your product label.
The list goes on. Check out our entire series on how to make your labels pop off the shelves and into your customer's hands.
Show 'Em How to Use It
Your label has caught your buyer's attention and you've incorporated your branding into all of the copy, but that still begs the consumer's question, "How do I use this?"
60% of consumers have purchased a product a second time simply because the packaging made the product more functional. For example, if you sell baby formula, creating a package with a built-in formula measure and zip up top can make it easier for busy families to use.
Use your label to describe how the packaging helps the consumer use the product. The easier you make it for your buyer to understand quickly, the more likely she is to buy.
Be Competitive
Ultimately, you want to get your buyers to choose you over the competition. To do this, you need to separate yourself on the shelf.
One way to do this is through your packaging. 59% of consumers in the WestRock study said that they compared packaging when making a purchase decision. Safety seemed to be paramount in this comparison game because another 59% said that they purchased the product because the packaging made it safer.
Question: What are you doing to stand out on the shelf?
Your packaging has a significant impact on whether or not a consumer buys from you or your competition. Your label is your chance to interact with your consumer and convince her to buy from you. If you want to see an uptick in sales, try making small tweaks to your packaging to see what a difference it can make for you.
Want a little guidance to get started? We're here to help. Contact us at (877) 836-8337 for a free consultation and we'll help steer you down the path toward more sales.